Service Master of Geary County
Service Master of Geary County is your local expert and full service home and business cleaning company. Making your residence or business look like new again is our specialty, and we've been proudly serving customers in Kansas since 1984. Whether you need your floors waxed or your furniture upholstery cleaned, we're here to help make your interiors shine once again.
Quality Carpet Cleaning in Geary County, KS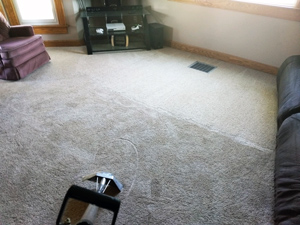 Are you in need of high quality, long-lasting carpet cleaning in Geary County, KS? Service Master of Geary County has been handling the interior cleaning needs of people in Geary County and the surrounding areas for more than 30 years, and we're committed to continuing to provide our expert services. We can provide a wide range of services from carpet and hardwood floor to tile and grout cleaning in Geary County, KS and more. Whether you just need your furniture upholstery cleaned up or you want us to restore an entire room, we're happy to help! We offer our cleaning services for both residential and commercial buildings, so you can benefit from our fast and reliable services no matter what your needs may be.
We offer our superior services for carpet cleaning and deodorizing, furniture and upholstery cleaning, tile floor refinishing, window cleaning, disaster restoration and more to customers in Chapman, Wakefield, Herington and Wade City. We employ true professionals who are trained in all forms of cleaning. Not only do we ensure that your interior surfaces will look great, we go the extra mile to rid the surfaces in your home or business of most germs and harmful bacterial growth. Carpet and upholstery cleaning in Geary County, KS is our specialty, but we're willing to take on the task of waxing, washing and shining all surfaces in your building if you need it. Take a look at just a few of the reasons why we are so highly regarded by our customers:
We have been in business for more than 30 years.
We locally serve Geary County, Chapman, Wakefield, Herington and Wade City.
We offer a wide array of services, including carpet cleaning, upholstery cleaning, tile cleaning, window cleaning, grout cleaning, deodorizing and water damage restoration.
We clean both residential and commercial interiors.
We are licensed and our staff is professionally trained to provide cleaning services in Kansas.